Alyze's power in a crawler
Alyze's SEO crawler is based on an enriched version of Alyze's page analyzer widely used in the SEO community since 2008. Unlike the page analyzer, the crawler is able to follow all the links on your site as a search engine robot would. It produces an analysis of your entire website where technical problems, SEO weaknesses, poorly adapted structures, etc. are easily detected.
How does it work? All Alyze members can scan 50 pages for free every month. While this may be enough for very small sites, it is mainly a way to perform a first test of the service. To go further, you need to subscribe to one of our Premium offers. There is something for all budgets (from 7 € / month)!
Our offers
SEO audit of an entire website
At a glance 😉
Alyze's crawler:
lists all the internal and external pages of a site,
detects SEO errors, broken links, duplicate content, and more,
helps you to understand and fix the problems detected.
Alyze's SEO crawler is in Beta.
What limits? What needs?
For the moment, Alyze's SEO crawler does not interpret JavaScript. It does not work correctly on 100% JS websites (except prerendering)
Site analytics works ideally on sites with less than 10,000 pages, beyond that we still lack tests.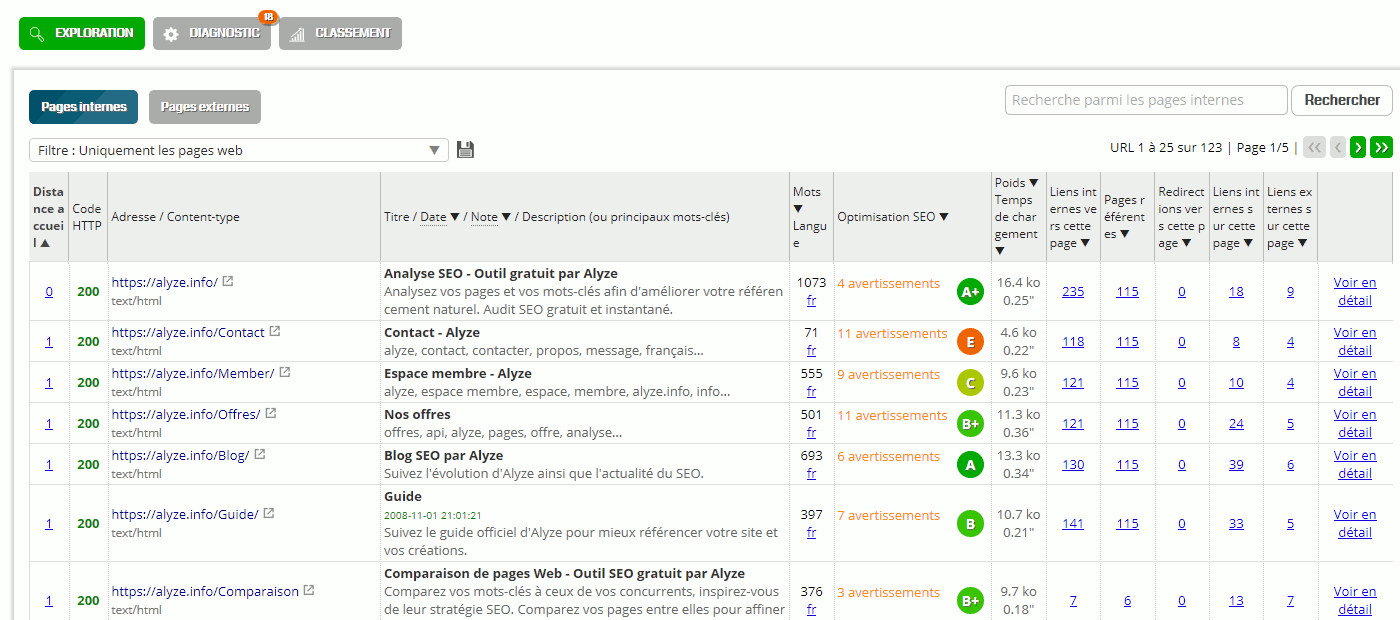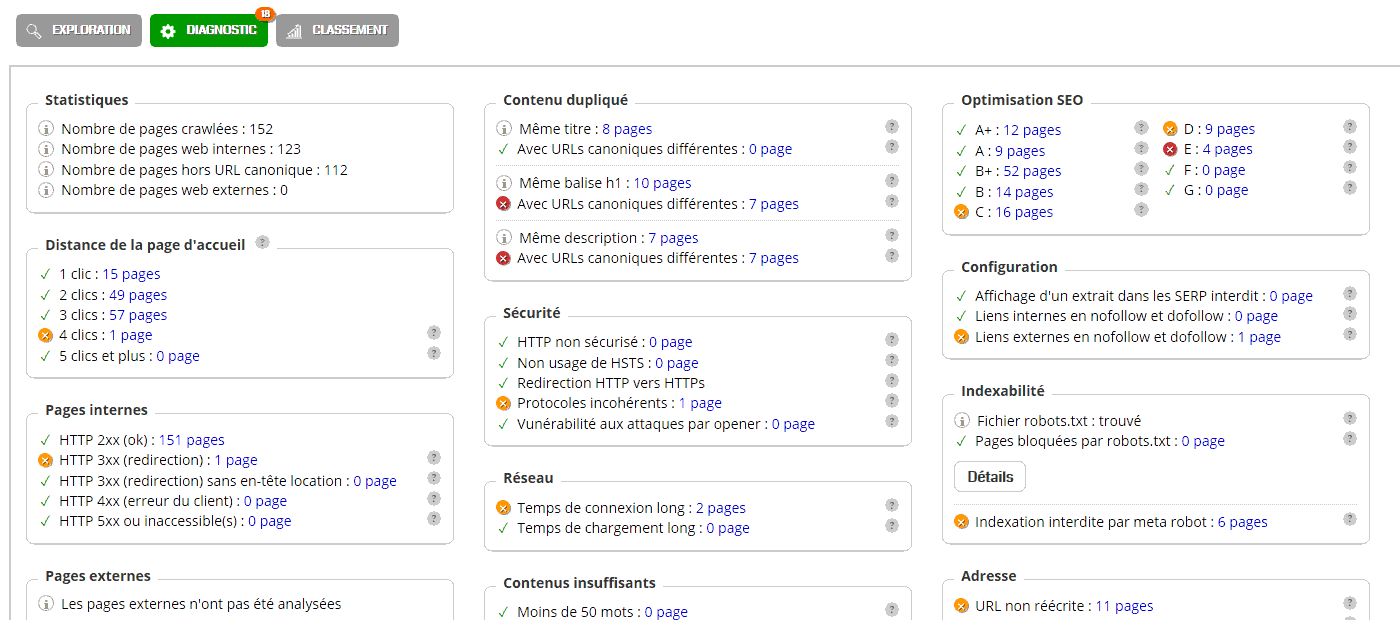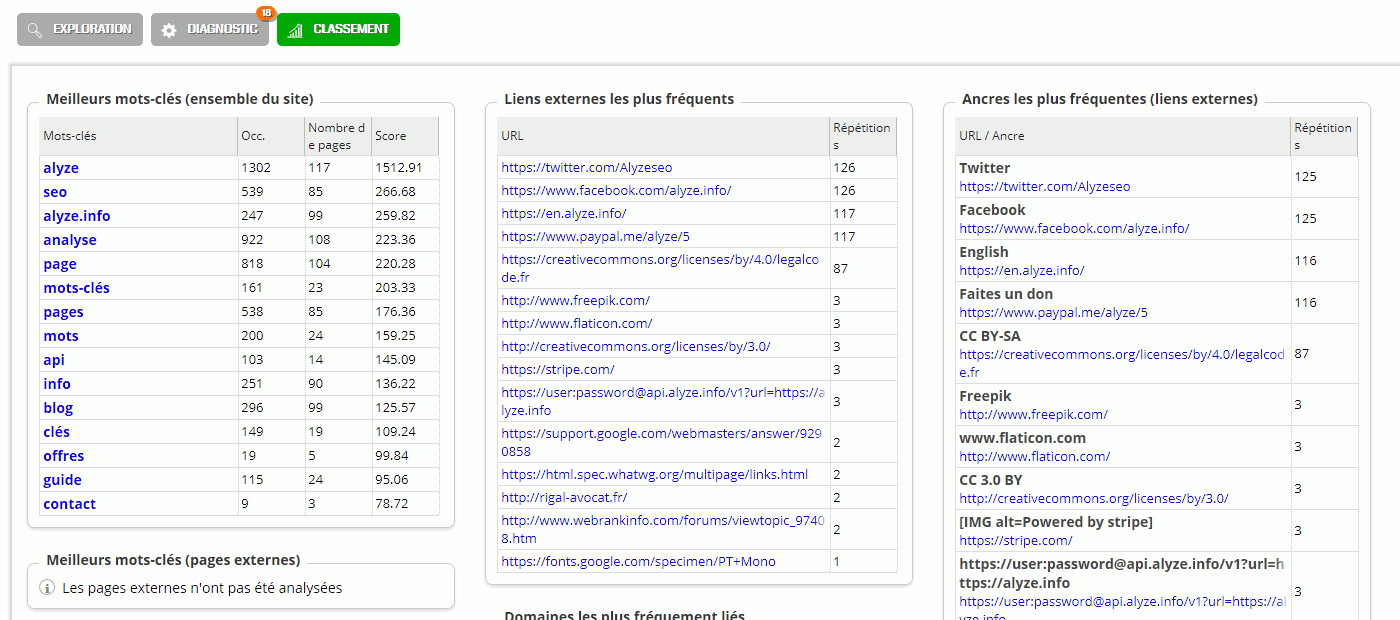 Tools for your SEO
SEO website analyzer
Analyzes a site's links, tracks internal and external links
Checking canonical tags and redirects
Detailed information for each page: HTTP code, weight, word count, optimization tips, internal links, external links.
Ranking pages by their score or date (via structured data)
Support for robots.txt file and robots meta tags
Keyword search engine
Export crawls in XSLX format, ...
More than 50 SEO errors detected
HTTP 404, 500, etc. Error Detections
Duplicate contents
Poor quality pages
Impossible or reduced indexing by meta tags robots
Good use of HTTPS and HTTP protocols
Redirections with and without www
Page without description, without balsie h1, with badly adapted title, etc.
Need to rewrite certain URLs, ...
Simple and effective help
Our SEO crawler is accompanied by aids designed to allow you to apprehend by yourself the results of the analysis. Every situation is different, SEO requirements are evolving and it is often difficult to maintain an absolute truth on the subject.

Here, no commercial blah blah blah, no miracle recipe. Alyze shows you the state of the art in relation to the audit of your site. No more and no less.